Construction works for San Francisco's Central Subway Project to create a modern light rail line has been under way since 2013. Dr. Sauer & Partners forms part of the SEM (Sequential Excavation Method) construction works for the Chinatown station which started in May this year.
The Central Subway Project will construct a modern light rail line to improve public transportation in San Francisco. This 2.7 km extension of Muni's T Third Line includes new stations at Yerba Buena, Union Square and Chinatown. Construction of the subway tunnels and stations commenced in 2013 and will continue through until 2018.
The stations at Yerba Buena and Union Square are being constructed in Cut-and-Cover. The station in Chinatown is being constructed following the Sequential Excavation Method (SEM). San Francisco's Municipal Transportation Agency (SFMTA) awarded contractor Tutor Perini the main contract for the construction of the works in 2013.
Dr. Sauer & Partners delivered the detailed design of all SEM structures for the Chinatown station between 2011 and 2012. Construction has now started on that section and Dr. Sauer & Partners provides SEM Design Representation on site.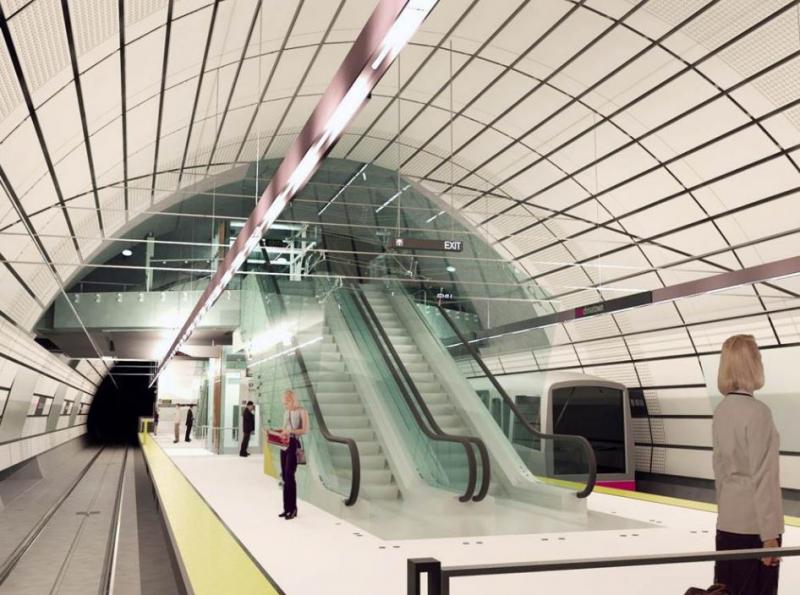 Specialist contractor Frontier Kemper (a part of the Tutor Perini family) started with the construction of the SEM structures in May this year, with completion envisaged in 2017. The SEM structures include caverns for a cross cut, the platforms and a crossover. Also included are two tunnels and a shaft for emergency egress purposes.
The image below shows the ongoing SEM construction of the Cross Cut Cavern. This cavern is 14.3 m wide and 17.1 m high and will create a space of 160 m2 in cross section. The intersection between Stockton Street and Washington Street is 17.3 m above the cavern.
The SEM structures are being constructed in bedrock of the Franciscan Complex (sandstone, shale and melange) and the Colma Formation (dense sand with interbedded stiff clay). A deep well dewatering system is in operation and dewaters the Colma Formation before construction of the SEM structures.